Muhammad Ali Signed Phantom Punch Liston Large Framed Display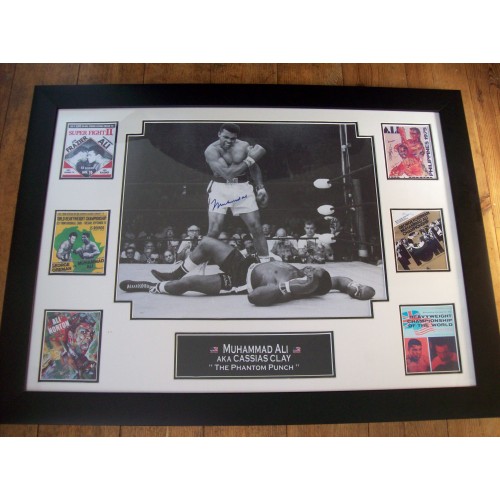 Item is currently sold out!
Please use our contact form if you would like more information
Description
Muhammad Ali Signed 19x15 inch "The Phantom Punch" KO Liston photograph, framed with small reproduction copies of fight programs. Comes with a seperate Authenticateit certificate.
Framed to an overall size of 34x25 inches.
Muhammad Ali (born Cassius Marcellus Clay, Jr.; January 17, 1942) is an American former professional boxer. Considered a cultural icon, Ali was both idolized and vilified. Ali would go on to become the first and only three-time lineal World Heavyweight Champion. Nicknamed "The Greatest," Ali was involved in several historic boxing matches. Notable among these were three with rival Joe Frazier, which are considered among the greatest in boxing history, and one with George Foreman, where he finally regained his stripped titles seven years later. Ali was well known for his unorthodox fighting style, which he described as "floating like a butterfly, stinging like a bee", and employing techniques such as the Ali Shuffle and the rope-a-dope. Ali had brought beauty and grace to the most uncompromising of sports and through the wonderful excesses of skill and character, he had become the most famous athlete in the world. He was also known for his pre-match hype, where he would "trash talk" opponents, often with rhymes.