Autograph Album 1950's Inc Benny Hill, Harry Seacombe, Zsa Zsa Gabor + Many More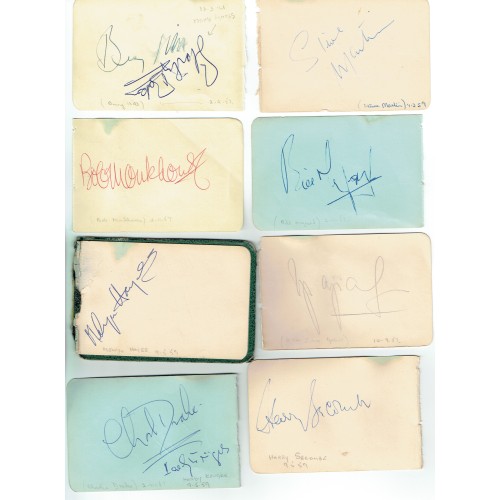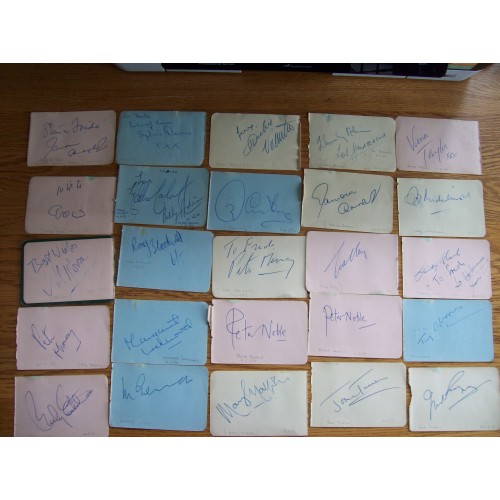 Item is currently sold out!
Please use our contact form if you would like more information
Description
A 1950's 4.5 inch by 3.5 inch autograph album which has many autographs from the 50's; the album is not in good condition and I have removed some signatures so ideal for removing and mounting signatures.
including
Harry Seacombe dated 1959, Zsa Zsa Gabour in pencil dated 1957 with Shirley Heaton on reverse, Benny Hill with Stanley Baker on same page, Charlie Drake with Hardy Kruger on same page dated 1959, Steve Martin dated 1959 with Paul carpenter on reverse, Melvyn Hayes, Ted Ray with Jimmy Edwards on reverse, Billy Eckstine with Jo Douglas on reverse, Eamon Andrews dedicated dated 1957, Bob Monkhouse with Cliff Mitchellmore on reverse, Glen mason, Joan Turner, terence Morgan dated 1959, Terry Wayne dated 1959 with Dave king on reverse dated 1957, Margeret Lockwood dated 1959 with Keith Faulkner and an unkown photographer on reverse, Al Colren, Kenneth Horne plus a few more. As stated many are signed on reverse of each page.