Marilyn Monroe Signed Doily & Original 1954 Nude Calender Framed Display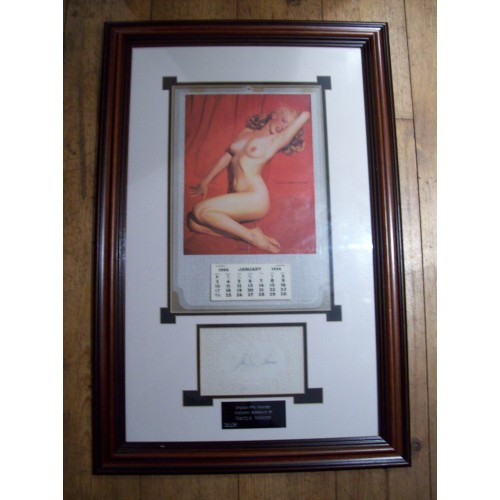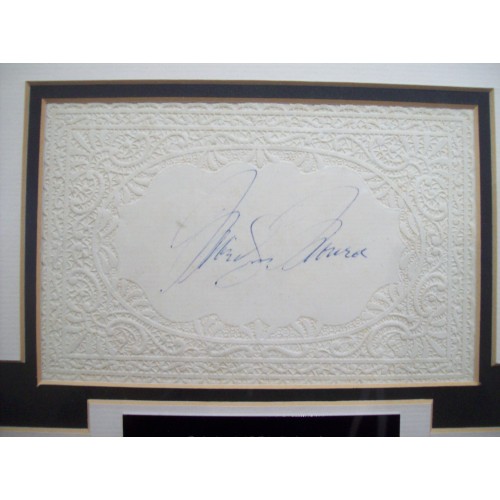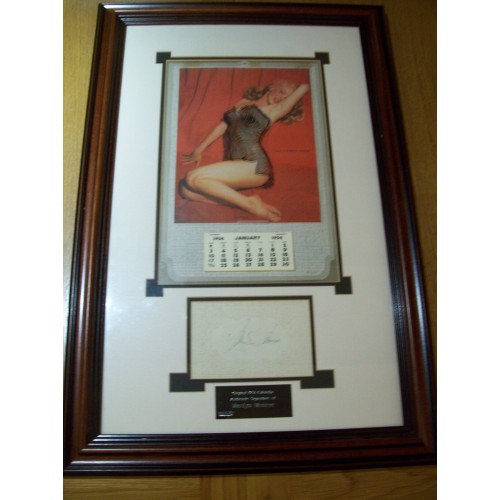 Item is currently sold out!
Please use our contact form if you would like more information
Description
Marilyn Monroe Signed Doily & Original by Tom Kelley 1954 Nude Calender (calender months are complete all twelve months veryrare) framed display, very rare as has original seperate plastic dress cover which was used for covering Marilyn's private area's, when being used for covering up for advertising.
Overall size 17x28 inches.
Photoshoot Info;
In 1949, she was in between work and hadn't modeled in a while. She knew the photographer, Tom Kelley, and he said that he wanted her to model for him, and that he would pay her $50 dollars. And she kinda hesitated. But a couple weeks later, she called him back and said, "I'll do it under two conditions. One, your wife has to be present, and two, you actually pay me that $50 dollars." She did the shoot, and signed the release as "Mona Monroe" because she was maybe a little embarrassed, but she needed to pay her rent and $50 dollars was a lot of money in those days. Immediately afterwards, she went back to modeling and got a new agent, and started getting small parts. It was after she did All About Eve when 20th Century Fox signed her to a long-term contract.
Tom Kelley had been shooting pinup photos for calendars for years. That's what he did. It wasn't that unusual, but it was unusual for any Hollywood actress to ever do that. No actress had ever done it. If there was an aspiring actress that posed nude, they probably would have never been hired. Even to this day, every talent contract [in Hollywood] has a morals clause in it which goes back to the '30s and '40s.
When they put out the calendar in 1951, Marilyn was a relative unknown, and the studio didn't realize it was her – it was just another woman, "Mona." As she started to get more popular in 1952 with the release of Niagara and a few other films – and Fox realized that "we have a real star here" – the calendar company realized that this was "Marilyn Monroe" and they decided to re-release it. That's when the studio and the press found out about it.
Monroe was in the middle of shooting the film, Gentlemen Prefer Blondes – which is ironically the film that catapulted her to international success. The studio started freaking out that this was going to end her career and that people were going to be outraged. She ended up doing an interview with a reporter that had already been scheduled. Instead of denying it, she plead her case and said, "What was I supposed to do? I needed the money. I was going to be out on the street, and it was tasteful, and the guy's wife was there to make sure that nothing happened." She asked the reporter – who was a woman – "what would you have done if you were me?" The reporter turned around and wrote a very compassionate story that got picked up around the world.