Michael J Fox & Chrisopher Lloyd Dual Signed 12x16 'Back To The Future' Photograph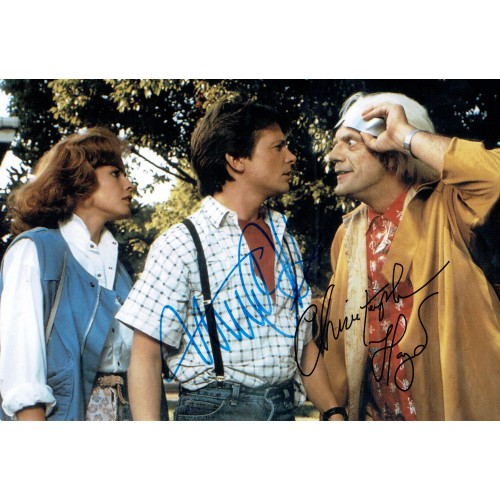 Description
Michael J Fox & Christopher Lloyd dual signed 12x16 'Back To The Future' photograph extremely rare to have dual signatures especially Michael J Fox signature due to his ailing health with Parkinson's disease.
Michael has signed in blue marker pen and Chritopher Lloyd in black marker pen.
Michael J. Fox, OC (born Michael Andrew Fox; June 9, 1961) is a Canadian-American actor, author, producer, and advocate. With a film and television career spanning from the 1970s, Fox's roles have included Marty McFly from the Back to the Future trilogy (1985–1990); Alex P. Keaton from Family Ties (1982–1989), for which he won three Emmy Awards and a Golden Globe Award; and Mike Flaherty in Spin City (1996–2001), for which he won an Emmy, three Golden Globes, and two Screen Actors Guild Awards.
Christopher Allen Lloyd (born October 22, 1938) is an American actor and comedian. Lloyd came to public attention in Northeastern theater productions during the 1960s and early 1970s, earning an Obie Award and a Drama Desk Award for his work. He made his screen debut in One Flew Over the Cuckoo's Nest (1975), and gained widespread recognition as Jim Ignatowski in the comedy series Taxi (1978–1983), for which he won two Emmy Awards. Lloyd also starred as Emmett "Doc" Brown in the Back to the Future trilogy, Judge Doom in Who Framed Roger Rabbit (1988), and Uncle Fester in The Addams Family (1991) and its sequel Addams Family Values (1993). Lloyd earned a third Emmy for his 1992 guest appearance in Road to Avonlea, and won an Independent Spirit Award for his performance in Twenty Bucks (1993). He has done extensive voice work, including Merlock in DuckTales the Movie (1990), Grigori Rasputin in Anastasia (1997), The Woodsman in Cartoon Networkminiseries Over the Garden Wall (2014), and the Hacker in PBS Kids series Cyberchase (2002–present), which earned him two further Emmy nominations. He has also been nominated for two Saturn Awards and a BIFA Award.