Tom Hardy Signed Legend 8x12 Photograph as Reggie Kray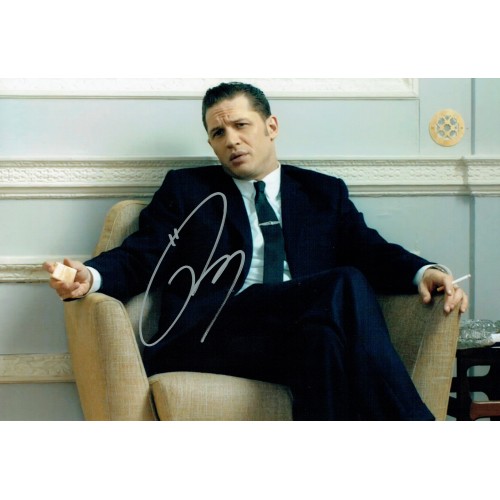 Item is currently sold out!
Please use our contact form if you would like more information
Description
A 8x12 colour photograph of Tom Hardy as Reggie Kray in the film Legend hand signed clearly in silver marker (fantastic sig) by Tom Hardy (tough autograph to obtain).
Edward Thomas "Tom" Hardy (born 15 September 1977) is an English actor, screenwriter, and producer. He made his debut in the war film Black Hawk Down (2001). His other notable films include the science fiction film Star Trek: Nemesis (2002), the crime film RocknRolla (2008), the biographical psychological drama Bronson (2008), the science fiction thriller Inception (2010), the sports drama Warrior (2011), the Cold War espionage film Tinker Tailor Soldier Spy (2011), the crime drama Lawless (2012), the drama Locke (2013), and the mobster film The Drop (2014). He also portrayed Bane in the superhero film The Dark Knight Rises (2012), "Mad" Max Rockatansky in the post-apocalyptic film Mad Max: Fury Road (2015), and both Kray twins in the crime thriller Legend (2015).