Carlos Tevez RARE Signed West Ham Match Worn Framed Football Shirt 2006/7 Season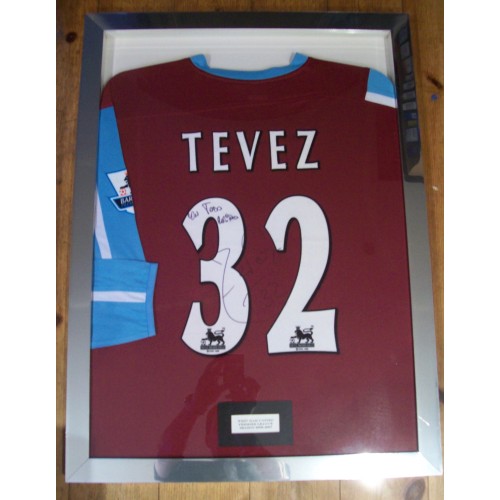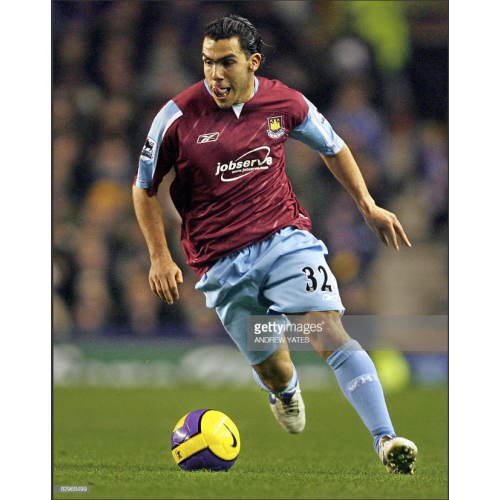 Item is currently sold out!
Please use our contact form if you would like more information
Description
Carlos Tevez signed adding "With all my love" (writteh in Spanish) West Ham Match Worn Framed Football Shirt: Given to West Ham member of staff as a thank you for getting him fit to play his first match for the Hammers. Nicely framed.
On 23 August 2006, Sky Sports reported Tevez was refusing to play for Corinthians. Tevez confirmed on his website on 31 August that both he and Javier Mascherano were signing for West Ham United on permanent deals for undisclosed fees. Media reports speculated that other Premier League clubs turned down the opportunity of signing Tevez and Mascherano because of stipulations put in place by third parties MSI and Global Soccer Agencies, which owned both players' rights. The investigation by the Premier League later revealed Tevez was signed from MSI and Just Sports Inc., and West Ham had the registration rights of the player, but the transfer fees were fully contributed to MSI and Just Sports (the economic rights).
Tevez made his West Ham debut after coming on as a second-half substitute in the 1–1 home draw with Aston Villa on 10 September 2006. However, after this match, West Ham went on a nine-game winless streak (one draw and eight defeats), which included seven consecutive matches without scoring. This winless run also included going out of both the UEFA Cup and League Cup. In November of the same season, Tevez left the ground early after being substituted and throwing a tantrum during a league match against Sheffield United, and as punishment, his teammates decided Tevez had to donate half of a week's wages to charity and train in a Brazil jersey. Tevez refused to wear the shirt, saying, "I played in Brazil and have a great respect for Brazil and Brazilians but I'm Argentine and won't wear that shirt.
On 6 January 2007, Tevez made his first start for West Ham under the new management of Alan Curbishley in a 3–0 FA Cup third round victory over Brighton & Hove Albion. He scored his first West Ham goal and assisted two others on 4 March 2007 in a 4–3 home defeat to Tottenham Hotspur. In April 2007, West Ham were fined a record £5.5 million for breaching Premier League rules over the signings of Tevez and Mascherano. Nonetheless, Tevez was cleared to play for West Ham by the Premier League after changes were planned to be made to a third-party agreement related to him. That same month, Tevez was named the club's Hammer of the Year.
In relegation-threatened West Ham's final league match of the season against Manchester United on 13 May, Tevez scored the only goal in a 1–0 victory. The match result secured West Ham's stay in the top flight after Sheffield United's failure to beat Wigan Athletic at home on the same day.