Hleb Arsenal Match Worn/ Issued 2007/08 Season Away Football Shirt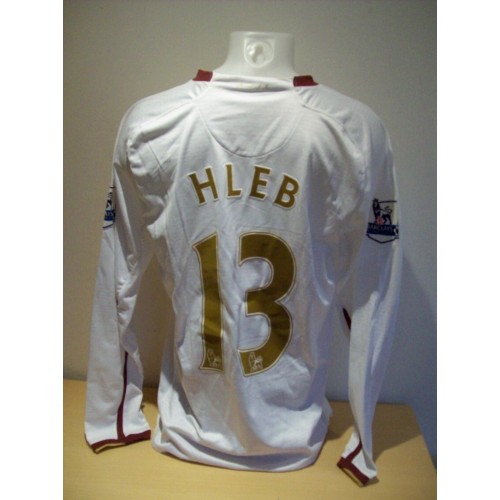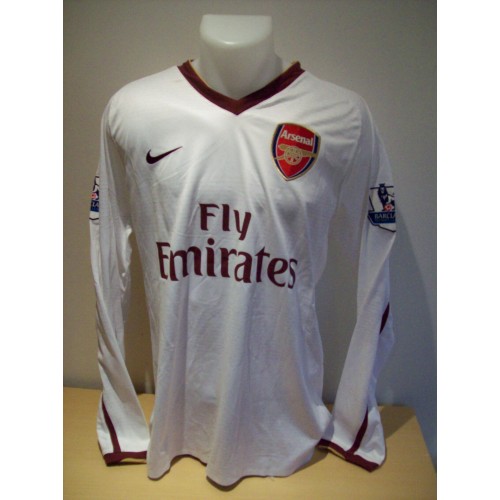 Item is currently sold out!
Please use our contact form if you would like more information
Description
Alexander Hleb Arsenal Match Worn Football Shirt: White Nike long sleeved number 13 with Premiership badging to arms. From 2007/2008 season. Direct from the National Football Collection.
Direct from the National Football Collection.
Made in Morocco.
Aliaksandr Paulavich Hleb (born 1 May 1981), commonly referred to in English as Alexander Hleb, is a Belarusian professional footballer who plays for BATE Borisov. Hleb's natural and preferred position is attacking midfielder or "in the hole" behind the strikers, but he is often deployed on the wing. He is known for his passing, agility and dribbling ability. A full international for Belarus since 2001, he has won over 70 caps for his country.
ARSENAL; In June 2005, Hleb joined English side Arsenal for a sum which had the potential to reach €15 million, on a four-year contract. Arsène Wenger used Hleb at many different midfield positions, but he mainly played on the right wing for Arsenal. His competitive debut was made in August 2005, away to Chelsea. Soon after, Hleb sustained a knee injury while on international duty with Belarus and was out for several months, returning to the first team squad in December, and played 60 minutes in Arsenal's final UEFA Champions League group stage match against Ajax on 7 December. By January 2006, Hleb had established himself as a first choice player and scored his first goal for Arsenal in a 7–0 win over Middlesbrough. In May, Hleb became the first ever Belarusian footballer to play in the Champions League final. He ended the season with 40 appearances and three goals. Despite a hamstring injury, Hleb made 48 appearances in the 2006–07 season and scored three goals. In 2007–08, he was moved from the right wing and played behind Robin van Persie as a withdrawn striker. When strikers Emmanuel Adebayor and Eduardo recovered from injuries Arsène Wenger reverted to a 4–4–2formation and Hleb returned to playing on the wing. His season was cut short after he was banned for three games by the FA after he was charged with violent conduct in an incident with Graeme Murty of Reading during their 2–0 win. Hleb admitted his offence, ending his season. Hleb was always a popular figure at Arsenal, and the fans reciprocated the effort he brought to the team by inventing a song to the tune of Johnnie Allan's Rubber Dolly, "Alexander Hleb, Alexander Hleb, He's good at football, Alexander Hleb".