Angel Cabrera Signed 2007 US Open Winner at Oakmont Mounted Golf Pin Flag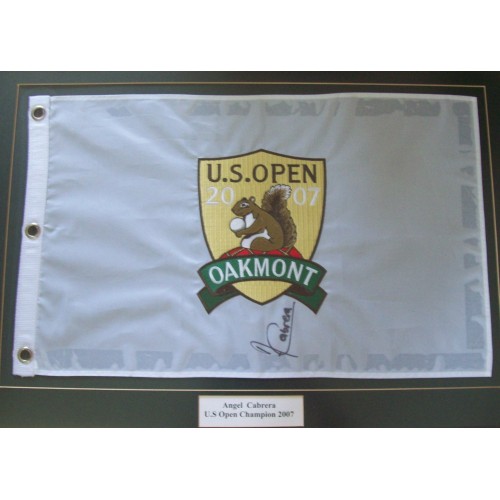 Description
Angel Cabrera autograph framed mounted display, a 2007 Oakmont US Open Golf Championship pin flag signed by the winner Angel Cabrera.
Framed & mounted to an overall size of 28x20 inches (mount size 26x18 inches). The item is framed but can remove for for shipping to save on cost & damage etc, no reduction in price if you want the frame removed. The frame has couple of small marks which could be touched up but looks great from a small distance away.
Ángel Cabrera (born 12 September 1969) is an Argentine professional golfer who plays on both the European Tour and PGA Tour. He is known affectionately as "El Pato" in Spanish ("The Duck") for his waddling gait. He is a two-time major champion, with wins at the U.S. Open in 2007 and the Masters in 2009; he was the first (and only) Argentine to win either. He also lost in a sudden death playoff at the Masters in 2013.