Monaco GP Programme Signed Ayrton Senna Schumacher Mansell Patrese Alesi Katayama Lehto Martini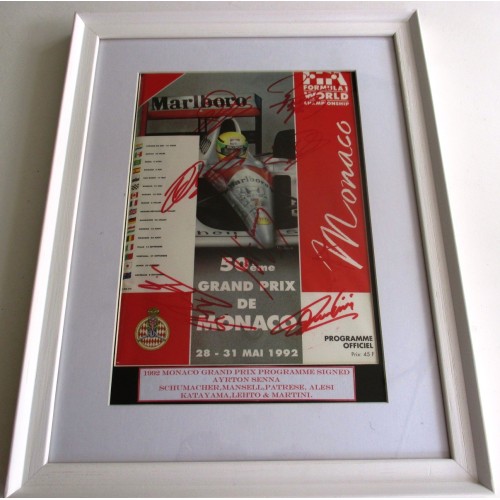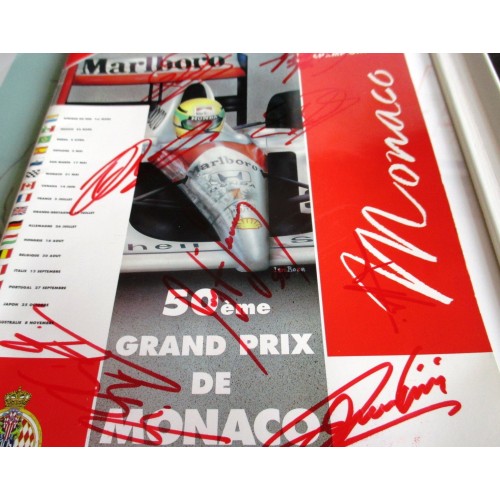 Item is currently sold out!
Please use our contact form if you would like more information
Description
Ayrton Senna (Winner), Michael Schumacher (4th), Nigel Mansell (2nd), Jean Alesi (RET lap 27), Riccardo Patrese (3rd), Ukyo Katayama (DNPQ), J J Lehto (9th) & Pierluigi Martini (RET Lap 22) Multi Signed 1992 Monaco GP framed Programme. Signed by all the above drivers in red marker pen. RARE multi signed item.
THE RACE
The conditions for the race were overcast, but warm and dry. The drivers took to the track on Sunday morning for a 30-minute warm-up session and Williams driver Ricardo Patrese finished fastest with Mansell down in fifth. Michele Alboreto performed strongly in his Footwork to finish the session second, but his team-mate Aguri Suzuki was sent to hospital for checks after crashing his FA13 at Tabac. The Japanese driver was later pronounced fit to race. The formation lap started at 15:30 local time. 26 cars qualified for the race, but only 25 took to the grid for the start as Gianni Morbidelli couldn't start his car during the warm-up lap and subsequently had to start from the pit lane. At the start, Senna passed Patrese into the St. Devote corner. Schumacher also passed Berger into the first corner. Pierluigi Martini also experienced his second crash of the weekend within the opening lap by running into the barrier on the exit of Mirabeau. The order at the end of lap one was Mansell in first, followed by Senna, Patrese, Alesi, Schumacher and Berger. Morbidelli joined the race a couple of laps down but only managed one lap before the gearbox again caused problems and forced him to retire for good. Roberto Moreno had moved up to nineteenth place thanks to the six earlier retirements but was forced to retire the Andrea Moda S921 on lap 11 in the pits due to engine problems with the Judd GV V10. Patrese began to attack Senna but then began to drop back with gearbox troubles. On lap 12, Schumacher tried to pass Alesi in the Loews Hairpin and the two collided, and an electronic box was damaged in Alesi's car. Alesi continued to stay in fifth for another 16 laps with Schumacher getting ahead of him, before the damage forced him to retire on lap 28, this promoted Berger to fifth. Brundle was chasing Berger, but he made an error in Nouvelle Chicane and not only suffered a puncture but also damaged the Benetton's front wing and had to pit for repairs, giving sixth place to Capelli. On lap 32 Berger had to retire when his gearbox failed. On lap 60 Michele Alboreto made a mistake and spun in front of Senna's McLaren-Honda, nearly causing a collision between them. In avoiding Alboreto's Footwork Senna lost nearly 10 seconds. Murray Walker: "Ivan Capelli. This won't of course have done his Ferrari position any good because although Luca Di Montezemolo, the Ferrari boss of both the passenger and the racing car divisions has said Capelli's position is safe; some of us doubted that statement and Capelli has gone off and out of the race, out of fifth position, out of a possible two points for the team" James Hunt: "Some of us horrible cynics yes" Ivan Capelli was running in 5th place despite having been lapped by Nigel Mansell, however on lap 61 he spun at Casino Square, damaging the steering arm. When he reached the swimming pool complex the damage caused him to spin and slide backwards wedging his Ferrari into barrier before Rascasse at a 45-degree angle. His retirement reminded the BBC F1 commentary team of the speculation regarding his future with Ferrari, which had been prominent before the race weekend. Nigel Mansell led the race in his Williams FW14B-Renault up until lap 70, but then suffered a loose wheel nut and was forced into the pits, emerging behind Ayrton Senna's McLaren-Honda. Mansell, on fresh tyres, set a lap record almost two seconds quicker than Senna's and closed from 5.2 to 1.9 seconds in only two laps. The pair duelled around Monaco for the final three laps but Mansell could find no way past, finishing just two-tenths of a second behind the Brazilian. It was Senna's fifth win at Monaco, equalling Graham Hill's record. Ricardo Patrese took the final podium position after just holding off Michael Schumacher's Benetton who finished fourth.