Mike Hawthorn Signed Artwork Framed Presentation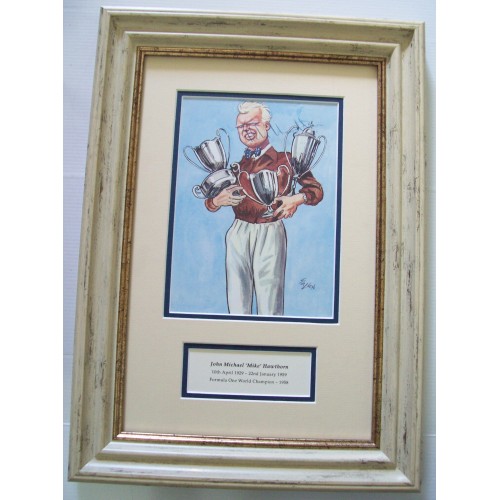 Item is currently sold out!
Please use our contact form if you would like more information
Description
Mike Hawthorn Signed Artwork.
A caricature artwork by Sallon, depicting World Champion Mike Hawthorn carrying his trophies. Signed clearly in blue ink, mounted and framed/glazed to a high standard. A rare signature. Framed to an overall size of 30x40cm.
John Michael Hawthorn (10 April 1929 – 22 January 1959) was a British racing driver. He became the United Kingdom's first Formula One World Champion driver in 1958, whereupon he announced his retirement, having been profoundly affected by the death of his teammate and friend Peter Collins two months earlier in the 1958 German Grand Prix. Hawthorn also won the 1955 24 Hours of Le Mans, but was haunted by his involvement in the disastrous crash that marred the race. Hawthorn died in a road accident six months after retiring; he was suffering from a terminal illness at the time.