Nigel Mansell & Will Hoy British Touring Car Championship Items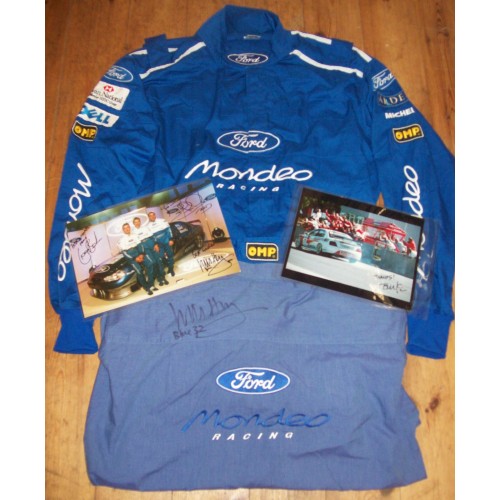 Item is currently sold out!
Please use our contact form if you would like more information
Description
British Touring Car Championship memorabilia comprising of a set of 1998 Ford Mondeo racing mechanics overalls & official team shirt, the left shoulder of the shirt signed Will Hoy-Blue 32, the garments featuring the blue Ford oval, Allders, Dell, Michelin, OMP and Swan national logos.
The signed photos as described; An 8x12 inch Ford team photograph signed by drivers Nigel Mansell adding Red-5, Will Hoy & Craig Baird all adding 'Best wishes'. A Honda team 7x10 inch photograph of their first victory in 2000 signed Thanks! Tom Kristensen in black marker pen, both signed photographs have been laminated in clear plastic.
1991 BTCC Champion Will Hoy's Blue 32 signature was done in jest at Nigel Mansel's insistence on perpetrating his 'Red 5' identity in saloon cars, even though that number was in use and he had to race displaying red number 55....
All the above items were presented to a professional race team mechanic called Phil.