Iron Maiden Band Signed 14x10 Inch Page Autographs of The Whole Of Original Line Up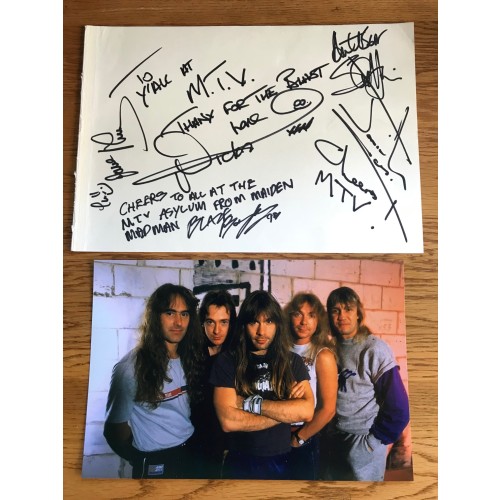 Item is currently sold out!
Please use our contact form if you would like more information
Description
Iron Maiden 14x10 inch page Signed By Whole Of Original 1994 Line Up together with an unsigned 12x8 inch photograph of the band.
The most unique set of autographs I've witnessed in long, long time. This item was removed from one of nine guest books containing 14x12 pages which were used for the stars and music artists to sign when they appeared on the 1992-1995 show MTV's Most Wanted famously hosted by Ray Cokes.

This large 12x16 page has been autographed by the 1994 line-up of legendary British rock group Iron Maiden. Together this line up released the albums 'The X-Factor' and 'Virtual XI'. Blaze Bayley, Janick Gers, Steve Harris, Nicko McBrain and Dave Murray have all autographed the page extremely clear in black ink.

Each member has uniquely signed the page with doodles and inscriptions. Bayley has added "cheers to all at the mtv asylum from maiden madman Blaze Bayley". Janick Gers has inscribed "cheers mtv!", Steve Harris "all the best", Dave Murray adding a smiley face, while Nicko McBrain has added the inscription "to y'all at mtv thanx for the blast".