Van Morrison Signed 8x12 inch photograph (SIGNING PROOF)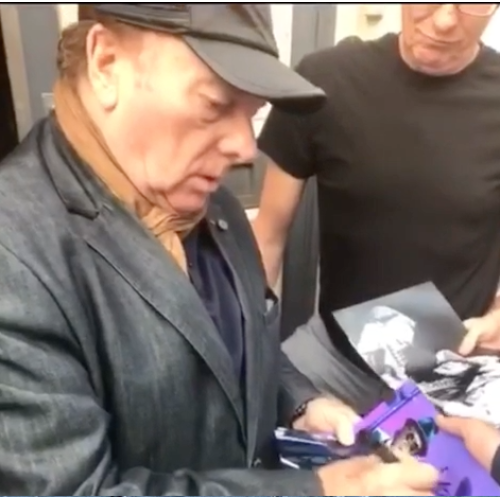 Description
Van Morrison signed 8x12 inch photograph a very rare and tough autograph to obtain, the signed photograph was signed at Nells Jazz & Blues, Kensington, London. Saturday 22/23rd September 2017 (see proof) of Van signing photos outside the venue.
Sir George Ivan "Van" Morrison, OBE (born 31 August 1945) is a Northern Irish singer-songwriter, instrumentalist and producer. In 2016, he was knighted for his musical achievements and his services to tourism and charitable causes in Northern Ireland.
Known as "Van the Man", Morrison started his professional career when, as a teenager in the late 1950s, he played a variety of instruments including guitar, harmonica, keyboards and saxophone for various Irish showbands, covering the popular hits of that time. He rose to prominence in the mid-1960s as the lead singer of the Northern Irish R&B band Them, with whom he recorded the garage band classic "Gloria". His solo career began under the pop-hit oriented guidance of Bert Berns with the release of the hit single "Brown Eyed Girl" in 1967. After Berns' death, Warner Bros. Records bought out his contract and allowed him three sessions to record Astral Weeks (1968). Though this album gradually garnered high praise, it was initially a poor seller. Moondance (1970) established Morrison as a major artist, and he built on his reputation throughout the 1970s with a series of acclaimed albums and live performances. He continues to record and tour, producing albums and live performances that sell well and are generally warmly received, sometimes collaborating with other artists, such as Georgie Fame and The Chieftains.