Liam Brady Signed 'So Far So Good'....A Decade In Football' 1981 Hardback Book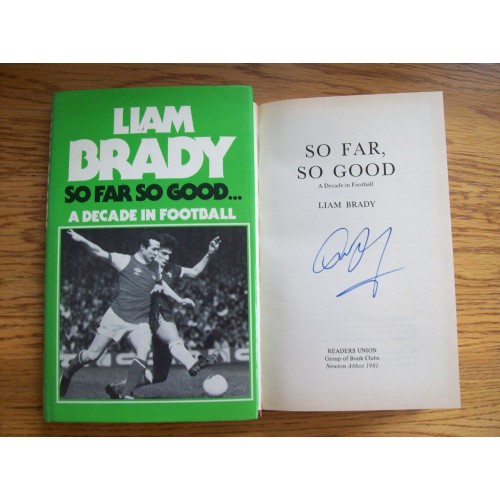 Item is currently sold out!
Please use our contact form if you would like more information
Description
Liam Brady Signed 'So Far So Good'....A Decade In Football' Hardback Book.
Signed by Liam Brady in blue pen.
Good condition for year 1981.
Liam Brady (born 13 February 1956) is an Irish former footballer and assistant manager of the Republic of Ireland national football team.
Brady was a talented offensive midfielder renowned for his left foot and elegant technical skills such as his high-quality passing, vision, and close control, which made him an excellent playmaker. Despite a satisfactory work-rate and pace, he combined such with significant tenacity, an eye for goal from midfield, and accurate penalty taking as well. In addition to his footballing ability, Brady also stood out throughout his career for his professionalism. He found success both in England with Arsenal where he won an FA Cup and Italy with Juventus, winning two Serie A titles. Brady was altogether capped 72 times for the Irish national football team.
Brady went on to manage clubs Celtic, Brighton and Hove Albion together with being the assistant manager of Ireland's national football team.