Mike Tyson Owned Trump Plaza VIP High Roller Lounge Card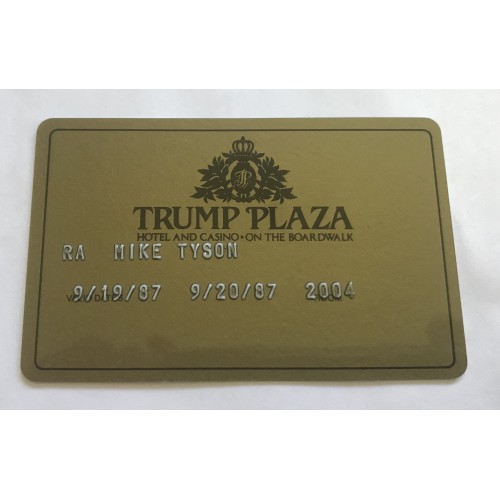 Buy now price:
£
1295.00
:
Description
Full description: This is the original Mike Tyson High Roller V.I.P. card with his name and hotel number on it. Issued by the Trump Plaza to The High Roller VIP Lounge located on the 35th Floor. Hard plastic (like a credit card). Clean front and back. Not creased or torn. Bold color and print. 2 1/8" x 3 3/8." Rare personal item of Mike Tyson when he was world heavyweight champion.
History: Miss America 1988, the 61st Miss America pageant, was held at the Boardwalk Hall in Atlantic City, New Jersey on September 19, 1987. Among the many celebrities in attendance was world heavyweight champion Mike Tyson who took time out from training for his October, 1987 fight with Tyrell Biggs to see the contest. Tyson stayed at the Trump Plaza in Atlantic City. Beauty contests would not bode well for Tyson who was arrested and convicted of raping 18-year-old Desiree Washington, Miss Black Rhode Island, in an Indianapolis hotel room during her beauty contest which Tyson attended. Offered here is the original, personal. V.I.P. card issued to Mike Tyson for Tyson's stay at the Trump Plaza on September 19, 1987 in Atlantic City.
Craig Hamilton Jo Sports authenticated.
Size: 2 1/8 x 3 3/8
Categories: Misc - Tyson, Mike -
Condition: near mint
Quantity: 1