Charities We Have Helped!!
Charities we have helped
Over the years Bid4Sport has supported many Charities here are just a few of them.....

Charity Registration No. 1079675
We raised funds for Halliwells Corperate Challenge in 2008 with autographed pieces of memorabilia who then we donated the proceeds to The Prince's Trust, Donna Wilson who organised our involvement worked tirelessly and we hope our involment helped towards the Prince's trust's aim. The Prince's trust help disadvantaged young people in the UK to change their lives and get into work, education or training. This year, The Trust aims to support 58,000 vulnerable young people, helping to give them the skills and confidence to find a job. We cannot do this without your vital support.

Peggy and Friends, the child amputee charity were our first charity partners, but we're delighted to have worked with a wide range of fantastic causes in the last 18 months. Providing a free platform to raise both profile and vital funds via designated auctions.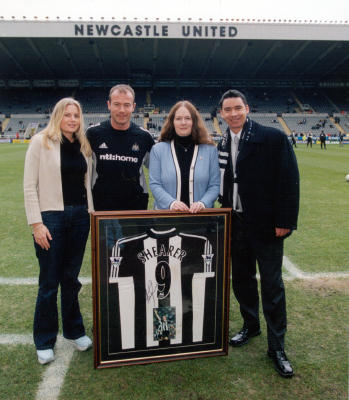 "William Hardy Trust"
Bid4sport are delighted to team up with England legend Alan Shearer and the players of Newcastle United to help a very special young man.


William Hardy is a soccer mad lad, who sadly lost three of his limbs to meningitis. Needing to raise money to purchase artificial limbs a special trust fund had been set up. This trust is supported by the Newcastle United players who had helped to raise as much money as possible for the William Hardy Trust. The first of these donations was an Alan Shearer's match worn shirt from the 2002/3 season game versus Liverpool in which he also scored. This was won by Bid4sport member Lynne Clarke and the great Alan Shearer himself presented her with the shirt on the pitch at St James before the Southampton match, in front of 52,193 supporters!


With the help of the Newcastle United players, official player sites and bid4sport members we've been able to raise well over £3,000 to date for William.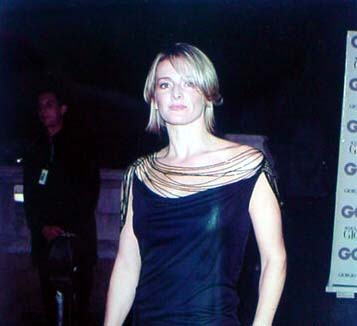 "The Daniel Yorath Appeal"
For the Hyperthrophic Cardiomyopathy Association
Registered Charity No. 803262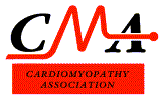 Bid4sport was thrilled to be able to help Gabby Logan and the Hypertrophic Cardiomyopathy Association! Hypertrophic Cardiomyopathy is a genetic, incurable disease, however it can be detected by medical screening and affected individuals can be given life-saving treatment.

The aims of the appeal are to promote and develop appropriate screening programmes, provide counselling and support for sufferers and to increase public and medical awareness!

Bid4sport will do anything and everything in their power to help Gabby and "The Appeal!"


For further information please contact the:
Hypertrophic Cardiomyopathy Association
The Daniel Yorath Appeal
40 Metro Centre
Tolpits Lane, Watford
Herts
WD1 9SB

Tel: 01923 249977
Fax: 01923 249987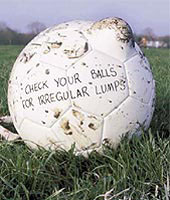 KEEP YOUR EYE ON THE BALL
Keep Your Eye on the Ball is a campaign aimed at raising awareness of testicular cancer within football clubs and their supporters. Testicular cancer is the most prevalent form of cancer amongst young men aged between 18 and 35, and the recent cases of Alan Stubbs and Neil Harris brought the message home that football is not immune from the disease. However, thanks to research conducted by The Institute of Cancer Research and everyman, 96% of cases can now be successfully treated if diagnosed early enough.

Keep Your Eye on the Ball is backed by the FA and PFA, and Simon "Shakey" Shakeshaft is providing auction items to Bid4sport to help raise funds for our vital work. Simon suffered from testicular cancer and is actively campaigning to ensure men know the symptoms, check themselves regularly and aren't embarassed to seek medical advice. We are very grateful to Simon and Bid4sport for their support to our campaign.
"... just to say a very big thank you to you for the cheque which arrived today for £272. The Variety Club will be really pleased. Great to see that the signed shirt went for £200 alone! Keep up the good work"
Vicky Brown
Head of Community & Ladies Football
Fulham Football Club
The Niall Quinn Children's Charity
Reg Charity No : 1091963
"I am completely overwhelmed by the generosity and support I received during my benefit Year. To be able to raise a massive amount of money for my 3 chosen Charities - The Sunderland Royal Hospital, Our Lady Children's Hospital for Sick Children in Dublin and the GOAL Street Children Programme in Calcutta was a fantastic achievement and I would like to thank Bid4sport for their generosity, help and support."
Many thanks and Best Wishes
Niall Quinn - Sunderland and Ireland International
"The bid4sport.com / NICE celebrity auctions were our first foray into internet fundraising and we were delighted with the results. Thanks to the team at bid4sport for their support, and we look forward to working with you in the future.
Sandra Morby
Community Fundraiser
National Institute of Conductive Education
Cannon Hill Park
Birmingham
"Thank you for your support of our work with children with communication difficulties via your fantastic website!"
Caroline Gray
Director
The ACE Centre Advisory Trust
Headington
Oxford
Bid4sport were also delighted to assist Matthew Le Tissier in his fundraising efforts for the Geoff Smith Charity Fund with the record breaking auction of his signed shirt that raised an amazing £2,000. The photo below shows the presentation of the cheque.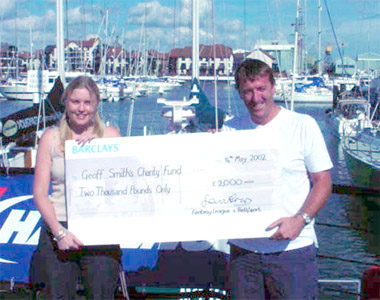 "I was delighted to receive the £2000 cheque from Bid4sport which was donated to the Geoff Smith Charity Fund. The Geoff Smith Charity Fund is very dear to me because Geoff is my close friend - an ardent Saints fan who supplied the laughing juice for the players lounge at the Dell. He has MS and raises funds to help fellow MS sufferers. He also had the benefit of Geoff's services when drinks were needed for his parties and barbecues at home. Oh I could go on and tell you a lot more but you wouldn't believe half of it!!! Seriously though I would once again like to thank Bid4sport for their help, generosity and 1st class service. ."
Cheers
Matt Le Tissier - Southampton and England International
The Andy Cole Children's Foundation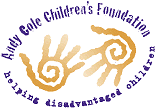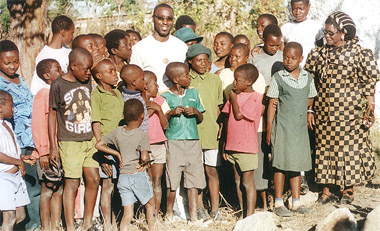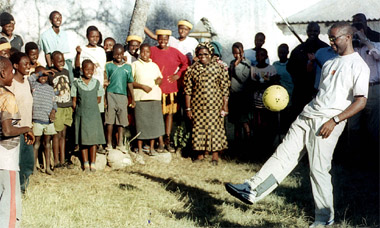 "The Andy Cole Children's Foundation was delighted to team up bid4sport in order to raise funds for our vital work with disadvantaged children around the world"
Andy Cole - Blackburn and England International

The National Association of Disabled Supporters
Registered Charity No. 1079740
We assisted NADS fund raising initiative in 2009 by raisng funds using our auction platform to auction items kindly donated by many league football clubs in the UK, together with some items we donated to help raise as much money as possible to this great cause that sadly does not get the recognition of other charities.