Arturo 'Thunder' Gatti (1972-2009) Signed US $5 Dollar Note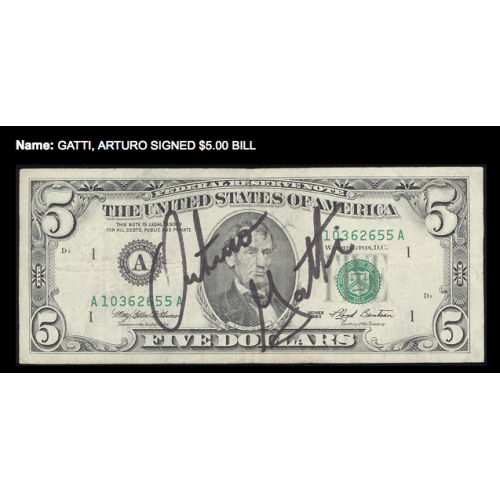 Description
This is an original Series 1993, $5.00 bill. Boldly signed in black sharpie, "Arturo Gatti." Multiple creases with no tears. Clean front and back. 2 1/2" x 6."
Provernance Jo Sports Craig Hamilton.
History: Arturo "Thunder" Gatti (April 15, 1972 – July 11, 2009) was an Italian-Canadian professional boxer. Born in Cassino, Italy and raised in Montreal, Quebec, Canada, Gatti relocated to Jersey City, United States as a teenager. He returned to Montreal after retiring from boxing to work in real estate. Gatti won world championships designated by two different boxing boards in two different weight classes. He also participated in Ring Magazine's "Fight of the Year" a total of four times (1997, 1998, 2002 and 2003). He announced his retirement on July 14, 2007. On December 10, 2012, Gatti was inducted into the International Boxing Hall of Fame, in his first year of eligibility. He became the 10th Canadian pugilist to be inducted into the IBHOF. On July 11, 2009, Gatti was found dead in a hotel in Ipojuca, Pernambuco, Brazil, where he was on vacation with his Brazilian wife, Amanda Rodrigues, and their 10 month old son. He was 37 years old. Gatti's widow was charged with first degree murder after the strap of her purse was found stained with blood.