Malcolm Tierney (1938-2014) Signed 8x10 Lovejoy Charlie Gimbert Photograph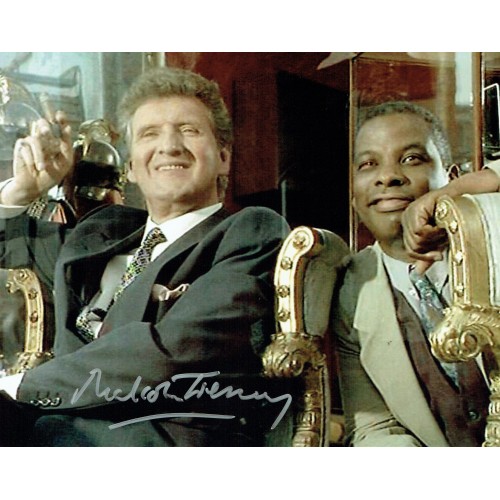 Description
Malcolm Tierney (1938-2014) Signed 8x10 Lovejoy Charlie Gimbert photograph. Signed by Malcolm Tierney in silver marker pen.
Malcolm Tierney played Charlie Gimbert in Lovejoy.
His roles included the part of Tommy McArdle in Brookside between 1983 and 1987, Charlie Gimbert in Lovejoy (26 Episodes 1986 and 1993), Geoffrey Ellsworth-Smythe in A Bit of a Do, Patrick Woolton in House of Cards and Chief Const. Raymond in Dalziel and Pascoe. In science fiction, he appeared as an Imperial officer (who questions the disguised Luke Skywalker and Han Solo on what they are doing with Chewbacca) in Star Wars in 1977 and the Doctor Who serial The Trial of a Time Lord in 1986. He also appeared in Braveheart as the English sheriff who executes the wife of William Wallace, and is then subsequently executed by Wallace. He appeared with the Royal Shakespeare Company in 1974–75 and 2005.In 1974 he played Claudio in Measure for Measure; coincidently the play also starred Michael Pennington who later portrayed an Imperial commander in Return of the Jedi. In 2007 he played Dr Hugo Eckener in the docudrama Hindenburg: The Untold Story, which was about the crash of the airship Hindenburg and the investigation after it. This was aired for the 70th anniversary of the disaster. In 2008 he played Captain Smith of the RMS Titanic in the docudrama Titanic: The Unsinkable Ship.