Billy Crystal Signed 'THROW MOMMA FROM THE TRAIN' Film 10 x 8 Photograph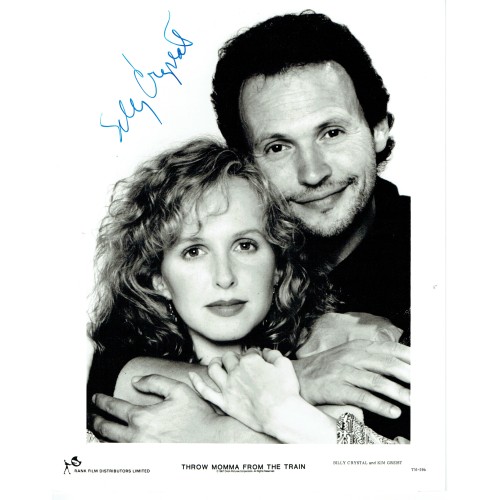 Description
Billy Crystal Signed 'THROW MOMMA FROM THE TRAIN' Film 10 x 8 Photograph.
Throw Momma from the Train is a 1987 American black comedy film directed by and starring Danny DeVito, Billy Crystal and Anne Ramsey, with Rob Reiner, Branford Marsalis, Kim Greist and Kate Mulgrew appearing in supporting roles. The title comes from Patti Page's 1956 hit song, "Mama from the Train (A Kiss, A Kiss)". The film was inspired by the 1951 Alfred Hitchcock thriller Strangers on a Train, which is also seen in the film.
The film received mixed reviews, but was a commercial success. Anne Ramsey was singled out for praise for her portrayal of the overbearing Mrs. Lift; she won a Saturn Award and was nominated for a Golden Globe Award and the Academy Award for Best Supporting Actress.