Geoff Duke (1923- 2015) Cut Signature Mounted With Photograph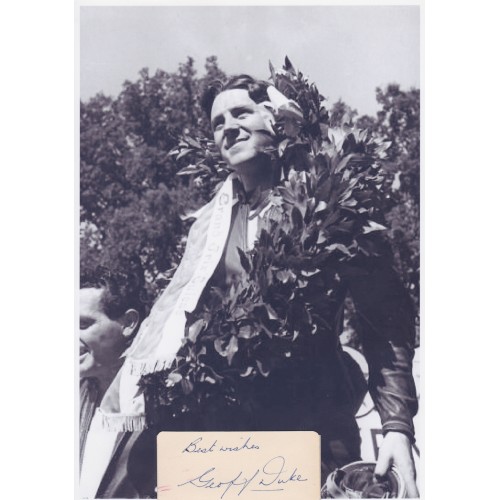 Description
Geoff Duke (29 March 1923 – 1 May 2015) signature on a cream card with a 10 x 8 inch black & white photograph of Geoff after winning a Grand Prix mounted to an overall size of 16 x 11 inches.
Geoffrey Ernest Duke OBE (born 29 March 1923 in St. Helens, Lancashire) was a British multi-time motorcycle Grand Prix road racing world champion. Geoff Duke dominated motorcycle racing in the 1950s, winning six world championships and five Isle of Man TT races. Duke came to prominence after winning the 1949 Senior Clubmans TT and the Senior Manx Grand Prix and was to become the very first post-war motorcycling 'superstar', popularly known amongst the racing fraternity simply as 'the Duke'. He was signed up to the Norton works team for the 1950 TT, finishing second in the Junior and breaking both lap and race records in the Senior.
Please note could do with re-mounting as there are a few scuffs on mount board.