Mo Farah 2012 Olympic Games 8x12 Signed Photograph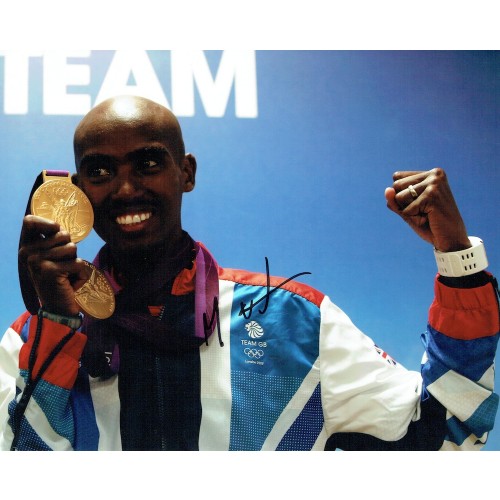 Description
An autograph 8x10 photograph of Mo Farah with both of his gold medals from the 2012 London Olympic games, signed by Mo Farah in black marker pen.
Mohamed Muktar Jama "Mo" Farah, CBE (born 23 March 1983) is a British distance runner. On the track, he mostly competes over 5000 metres and 10,000 metres, but has run competitively from 1500 metres to the marathon.
The most successful British track athlete in modern Olympic history, he is the 2012 and 2016 Olympic gold medallist in both the 5000 m and 10,000 m. He is the second athlete in modern Olympic history, after Lasse Virén, to successfully defend the 5000 m and 10,000 m titles. Farah also completed the double at the 2013 and 2015 World Championships in Athletics. He was the second man in history to win long-distance doubles at successive Olympics and World Championships, and the first in history to do the quadruple-double.