Wally (Walter) Schirra Jr Framed Apollo Space Presentation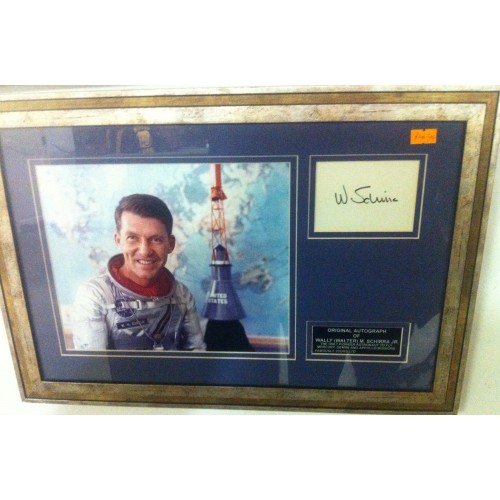 Item is currently sold out!
Please use our contact form if you would like more information
Description
Wally (Walter) Schirra Jr signature mounted with a portrait photograph of Wally in his space suit, framed to an overall size of 13x19 inches. He is the only Pioneer Astronaut to fly Mercury, Gemini & Apollo missions.
Walter Marty "Wally" Schirra Jr. (March 12, 1923 – May 3, 2007), (CAPT, USN), was an American naval officer and aviator, aeronautical engineer, test pilot, and one of the original seven astronauts chosen for Project Mercury, United States first effort to put humans in space. He flew the six-orbit, nine-hour Mercury-Atlas 8mission on October 3, 1962, becoming the fifth American, and the ninth human, to ride a rocket into space. In the two-man Gemini program, he achieved the first space rendezvous, station-keeping his Gemini 6A spacecraft within 1 foot (30 cm) of the sister Gemini 7 spacecraft in December 1965. In October 1968, he commanded Apollo 7, an 11-day low Earth orbit shakedown test of the three-man Apollo Command/Service Module. He was the first person to go into space three times, and the only person to have flown in Mercury, Gemini, and Apollo, logging a total of 295 hours and 15 minutes in space.