Muhammad Ali Signed Book Plate 1993/94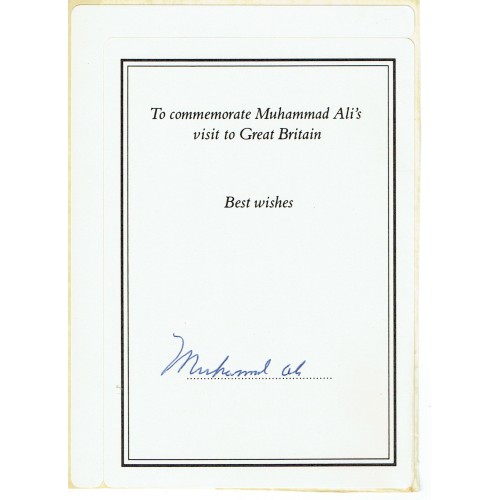 Item is currently sold out!
Please use our contact form if you would like more information
Description
Muhammad Ali Signed Book Plate, this book plate was signed in approximately 1993/94 when he visited Great Britain promoting his book 'A Thirty Year Journey' by Howard L Bingham, the book plates were signed by Muhammad Ali & are still on the un-pealed backing and should have been for inserting into the books at a later date which were never inserted.
This autograph of the boxing legend Muhammad Ali is extremely rare & could be mounted to make a fantastic presentation item.
Muhammad Ali (born Cassius Marcellus Clay, Jr.; January 17, 1942) is an American former professional boxer, generally considered among the greatest heavyweights in the history of the sport. A controversial and polarizing figure during his early career, Ali is now highly regarded for the skills he displayed in the ring plus the values he exemplified outside of it: religious freedom, racial justice and the triumph of principle over expedience. He is one of the most recognized sports figures of the past 100 years, crowned "Sportsman of the Century" by Sports Illustrated and "Sports Personality of the Century" by the BBC.
Ali remains the only three-time lineal world heavyweight champion; he won the title in 1964, 1974, and 1978. Between February 25, 1964 and September 19, 1964 Muhammad Ali reigned as the undisputed heavyweight boxing champion.
Nicknamed "The Greatest", Ali was involved in several historic boxing matches. Notable among these were the first Liston fight, three with rival Joe Frazier, and one with George Foreman, where he regained titles he had been stripped of seven years earlier.