Ray Wilkins (1956-2018) Signed 1982 Finland v England 8x10 Press Photograph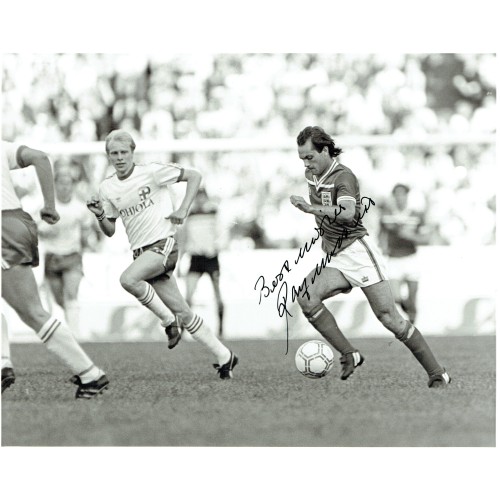 Description
Football Ray Wilkins signed adding Best Wishes 8x10 press photograph of the 03/06/1982 friendly match held in Helsink,i Finland v England where Ray is carefully watched by Finlands Hannu Turunen, England won 4-1.
The son of professional footballer George Wilkins, he had two sisters and three footballer brothers: Graham Wilkins (born 28 June 1955 in Hillingdon), a former professional, who played in the Football League as a full-back for Chelsea, Brentford, and Southend United; former Brighton & Hove Albion manager and player, Dean Wilkins; and Stephen Wilkins, who was signed by Chelsea and later made one appearance for Brentford, before playing for a number of non-League teams, including Dagenham and Hayes. Throughout his life, Wilkins was known by his childhood nickname of "Butch".
Wilkins married Jackie (née Bygraves) in 1978. The couple had a son and a daughter.
Wilkins was a patron for the charity Cardiac Risk in the Young. In 1993, he was made an MBE.
In March 2013, he was stopped whilst driving and found to be "nearly four times" over the legal alcohol limit. In February 2014 he said that he had ulcerative colitis. In July 2016, Wilkins was given a four-year ban for drink driving. In August 2016, Wilkins admitted he was an alcoholic.
On 28 March 2018, Wilkins had a cardiac arrest resulting in a fall and was placed into an induced coma at St George's Hospital in Tooting. He died at the age of 61 on 4 April 2018.