Seve Ballesteros Tournament Used Tee Box Sign From The Seve Trophy 2013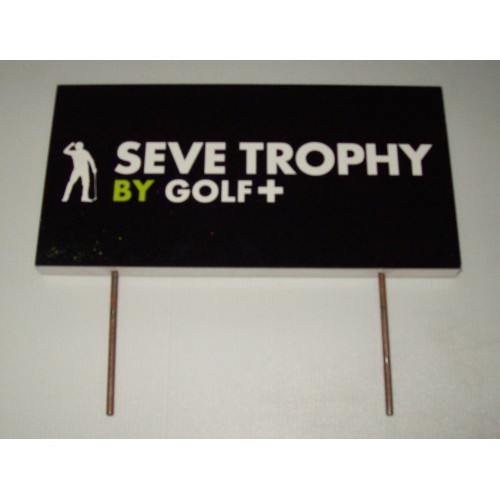 Description
Seve Ballesteros very rare actual tournament used Tee Box Sign From Seve Trophy 2013 overall size of 6x12 inches with 4 inch metal prongs that went into the ground ideal for framing.
The Seve Trophy was a biennial golf tournament between teams of professional male golfers; one team representing Great Britain and Ireland, the other team representing Continental Europe. The tournament is played in years when there is no Ryder Cup. The first competition was in 2000. The Trophy was named after five times major winner Seve Ballesteros, the most successful golfer ever from Continental Europe who was one of the key instigators of the tournament. He made an exceptional contribution to the European Ryder Cup successes of the 1980s and 1990s, and came to be regarded as an exceptionally keen team man in a usually individualistic sport. A sponsorship deal with the French media conglomerate Vivendi meant that the 2009 was known as The Vivendi Trophy with Seve Ballesteros, the 2011 event was the Vivendi Seve Trophy and the 2013 event was known as the Seve Trophy by Golf+.
Severiano "Seve" Ballesteros Sota; 9 April 1957 – 7 May 2011) was a Spanish professional golfer, a World No. 1 who was one of the sport's leading figures from the mid-1970s to the mid-1990s. A member of a gifted golfing family, he won more than 90 international tournaments in an illustrious career, including five major championships between 1979 and 1988:
Seve Ballesteros died of brain cancer on 7 May 2011, aged 54.