Larry Mullen JR U2 Stage Used Drumsticks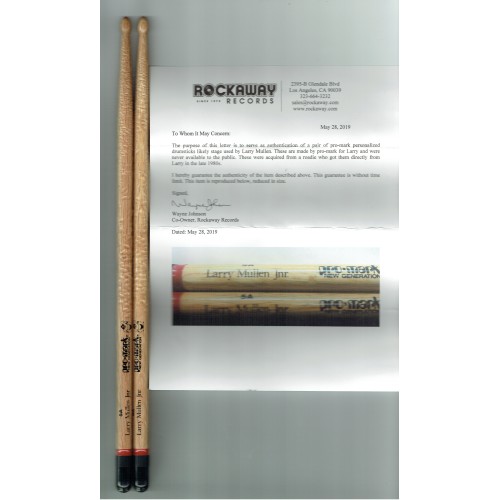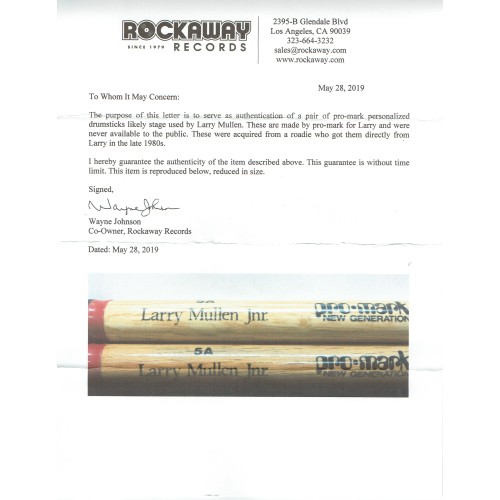 Buy now price:
£
1200.00
:
Description
LARRY MULLEN JR U2 USED DRUMSTICKS. A pair of Pro-Mark 5A drumsticks likely stage used by Larry Mullen Jr, given directly from Larry to a roadie of U2 in the late 80s. Pro-Mark personalised and issued the drumsticks to Larry Mullen Jr. making them unavailable to the public. Accompanied by letter of authenticity from Rockaway Records dated 28/05/2019.
Lawrence Joseph Mullen Jr. (born 31 October 1961) is an Irish musician and actor, best known as the drummer and co-founder of the rock band U2. Mullen's distinctive, almost military drumming style developed from his playing martial beats in a childhood marching band, the Artane Boys Band. Some of his most notable contributions to the U2 catalogue include "Sunday Bloody Sunday", "Pride (In the Name of Love)", "Where the Streets Have No Name", "Zoo Station," "Mysterious Ways", and "City of Blinding Lights". As a member of the band, he has been involved in philanthropic causes throughout his career, including Amnesty International. As a member of U2, Mullen has received 22 Grammy Awards and has been inducted into the Rock and Roll Hall of Fame. In 2016, Rolling Stone ranked Mullen the 96th-greatest drummer of all time.