Sean Connery Vintage Autograph Mounted With Photograph From Goldfinger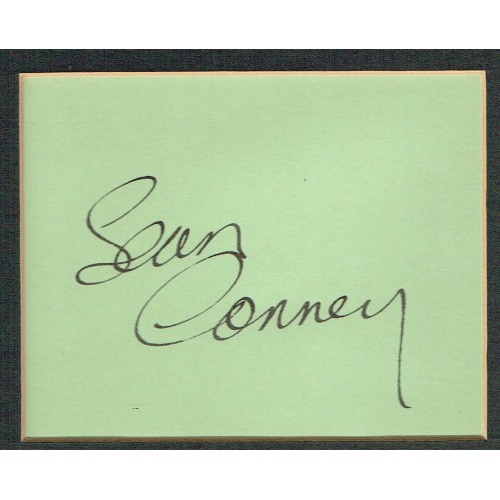 Description
Sean Connery vintage autograph & photograph as James Bond in Goldfinger. A mounted autograph album page signed by Sean Connery with photograph from the pre-title sequence of Goldfinger.
Sir Sean Connery (born Thomas Connery; 25 August 1930 – 31 October 2020) was a Scottish actor. He became known as the first actor to portray fictional British secret agent James Bond on film, starring in seven Bond films between 1962 and 1983. Originating the role in Dr. No, Connery played Bond in six of Eon Productions' entries and made his final appearance in the Jack Schwartzman-produced Never Say Never Again.
Connery began acting in smaller theatre and television productions until his breakout role as Bond. Although he did not enjoy the off-screen attention the role gave him, the success brought offers from famed directors such as Alfred Hitchcock, Sidney Lumet and John Huston. Those films included Marnie (1964), The Hill (1965), Murder on the Orient Express (1974), The Man Who Would Be King (1975), A Bridge Too Far (1977), Highlander (1986), The Name of the Rose (1986), The Untouchables (1987), Indiana Jones and the Last Crusade (1989), The Hunt for Red October (1990), Dragonheart (1996), The Rock (1996), and Finding Forrester (2000). Connery officially retired from acting in 2006, although he briefly returned for voice over roles in 2012.
His achievements in film were recognised with an Academy Award, two BAFTA Awards (including the BAFTA Fellowship), and three Golden Globes, including the Cecil B. DeMille Award and a Henrietta Award. In 1987, he was made a Commander of the Order of Arts and Letters in France, and he received the US Kennedy Center Honors lifetime achievement award in 1999. Connery was knighted in the 2000 New Year Honours for services to film drama.
In 2004, Connery was polled in the Sunday Herald as "The Greatest Living Scot" and in a 2011 EuroMillions survey as "Scotland's Greatest Living National Treasure". He was voted by People magazine as the "Sexiest Man Alive" in 1989 and the "Sexiest Man of the Century" in 1999.