John Candy Signed 5x3 White Card & Uncle Buck 8x10 Photograph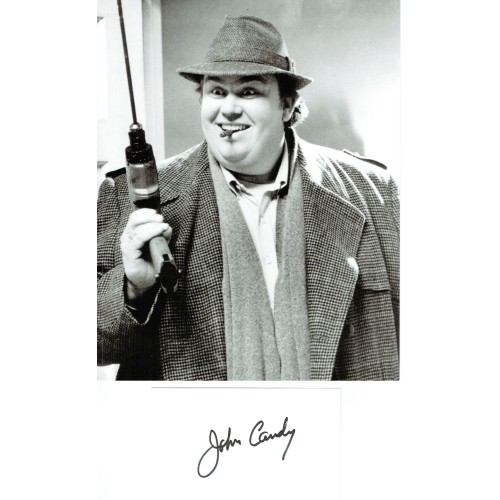 Description
John Candy signed 5x3 white card together with an 8x10 inch black & white photograph from the classic comedy film Uncle Buck.
John Candy. John Franklin Candy ,October 31, 1950 – March 4, 1994, was a Canadian actor and comedian known mainly for his work in Hollywood films. Candy rose to fame as a member of the Toronto branch of the Second City and its related Second City Television series, and through his appearances in such comedy films as Stripes, Splash, Cool Runnings, Summer Rental, Home Alone, The Great Outdoors, Spaceballs, and Uncle Buck, as well as more dramatic roles in Only the Lonely and JFK. One of his most renowned onscreen performances was as Del Griffith, the talkative shower-curtain ring salesman in the John Hughes comedy Planes, Trains and Automobiles. In addition to his work as an actor, Candy was a co-owner of the Toronto Argonauts of the Canadian Football League from 1991 until his death, and the team won the 1991 Grey Cup under his ownership.
Signed by John Candy in black marker pen.