Joe Cole Signed Piece of White Paper With 8x11 Liverpool Photograph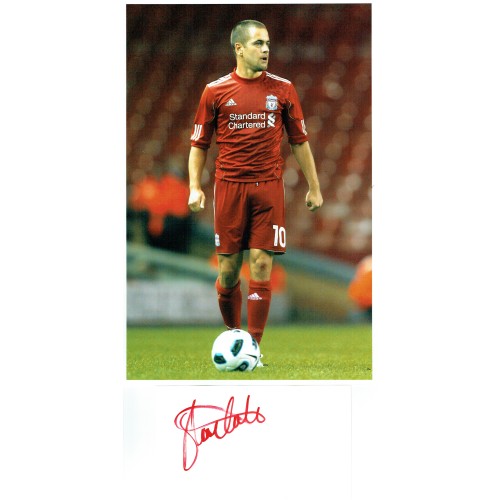 Item is currently sold out!
Please use our contact form if you would like more information
This item last sold for £15.00
on Wednesday, 8 July, 2020
Description
Joe Cole signed white paper With 8x11 Liverpool Photograph.
Joseph John Cole (born 8 November 1981) is an English football coach and former professional footballer who played as an attacking midfielder or winger in the Premier League, Ligue 1, League One and United Soccer League. Cole started his career with West Ham United, where, after breaking into the first team in January 1999, he played more than 120 Premier League games over five seasons. He was one of a number of players who left West Ham in the summer of 2003, after the club had been relegated to the Football League First Division, with Cole signing for Chelsea. He spent seven seasons at Chelsea, playing over 280 games in all competitions and winning seven trophies, including three Premier League titles, two FA Cups and a League Cup. He left Chelsea on a free transfer in July 2010 to join Liverpool, who a year later loaned him to Lille. After a season in France, he returned to Liverpool before re-joining West Ham in January 2013. He signed for Aston Villa in June 2014, then joined Coventry City on loan in October 2015, joining on a permanent deal in January 2016. This was to be his last club in England.