Payne Stewart Signed 8x12 Inch Book Page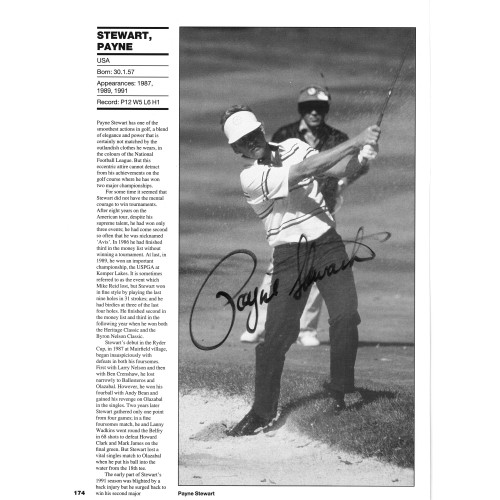 Description
Payne Stewart signed 8x12 Inch Book Page.
William Payne Stewart (January 30, 1957 – October 25, 1999) was an American professional golfer who won eleven PGA Tour events, including three major championships in his career, the last of which occurred a few months before he died in an airplane accident at the age of 42.
Stewart gained his first major title at the 1989 PGA Championship. He won the 1991 U.S. Open after a playoff against Scott Simpson. At the 1999 U.S. Open Stewart captured his third major title after holing a 15-foot (5 m) par putt on the final hole for a one stroke victory.
Stewart was a popular golfer with spectators, who responded enthusiastically to his distinctive clothing. He was reputed to have the biggest wardrobe of all professional golfers and was a favorite of photographers because of his flamboyant attire of ivy caps and patterned pants, which were a cross between plus fours and knickerbockers, a throwback to the once-commonplace golf "uniform". Stewart was also admired for having one of the most gracefully fluid and stylish golf swings of the modern era.
Removed from Ryder Cup Book