SlipKnoT Signed Page by Paul Gray, DJ Sid Wilson & Chris Fehn Removed from OZZFEST Programme 2001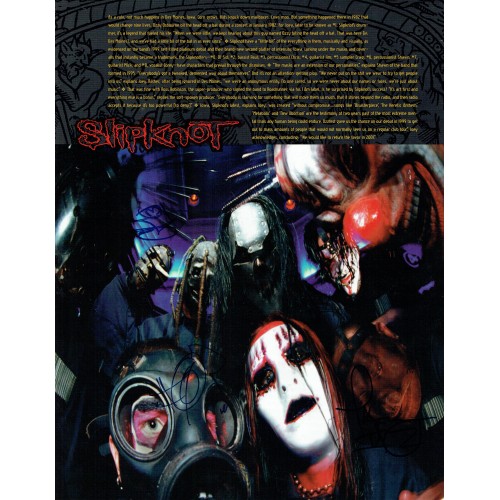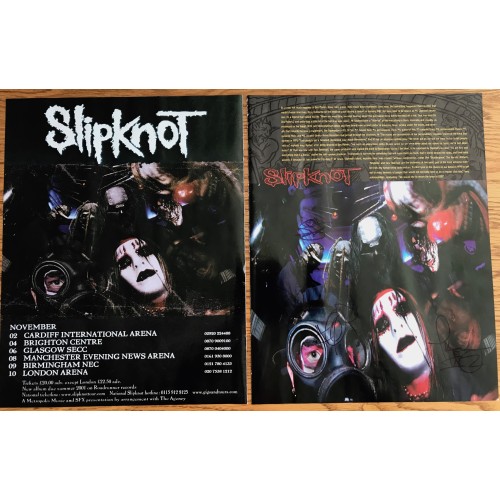 Item is currently sold out!
Please use our contact form if you would like more information
Description
SlipKnoT Signed Page by Paul Gray (1995-2010), DJ Sid Wilson & Chris Fehn Removed from the OZZFEST Programme 2001. Very rare item due to the death of the great Paul Gray in 2010.
Slipknot is an American Nu metal band formed in Des Moines, Iowa in 1995 by vocalist and percussionist Anders Colsefni, guitarists Donnie Steele and Josh "Gnar" Brainard, bassist Paul Gray, drummer Joey Jordison and percussionist Shawn "Clown" Crahan. Since its inception in 1995, the band has gone through multiple lineup changes, many of which occurred before the release of its debut album in 1999. In 1996, during the mixing stage of the band's first demo Mate. Feed. Kill. Repeat., Slipknot saw its first lineup change when Steele left the band and was replaced by Craig "133" Jones. Shortly after, Jordison suggested the group would need a full-time sampler and Jones fit the position as "he liked doing that anyway", so Mick Thomson was brought in to fill the open position on guitar. After the release of Mate. Feed. Kill. Repeat., the band members were working on new material which required more vocal melody, with which Colsefni struggled. In 1997, Corey Taylor was recruited from local band Stone Sour. As a result, Colsefni was moved to backing vocals and percussion, although he left soon after. Wanting to retain their percussive edge, the band added Greg "Cuddles" Welts as Colsefni's replacement. Towards the end of 1997, each member chose a number as his alias. Slipknot later considered including a DJ in their lineup; after difficulty finding one, Sid Wilson was enlisted to bring the lineup to nine members. In 1998, Welts was asked to leave the band and was replaced by Brandon Darner, who in turn was replaced just a few months later by Chris Fehn. The final early change in the lineup came in the latter stages of the recording of the band's debut album Slipknot in 1999, when during a break in recording Brainard decided to leave the band, to be replaced by Jim Root This lineup remained unchanged until May 2010, when Paul Gray died of an accidental overdose of morphine and fentanyl. The band's shows in 2011, 2012 and 2013 were played with former guitarist Steele filling in for Gray, although he was kept backstage. In December 2013, Slipknot and Joey Jordison parted ways in controversial circumstances. The band recorded and released its fifth album .5: The Gray Chapter in 2014, which featured new bassist Alessandro Venturella and drummer Jay Weinberg, whose identities were initially kept secret.